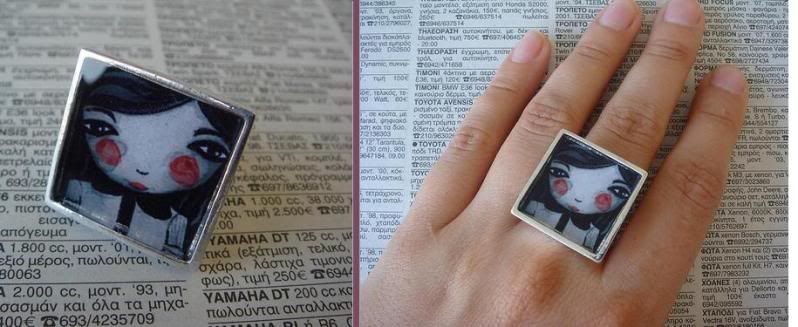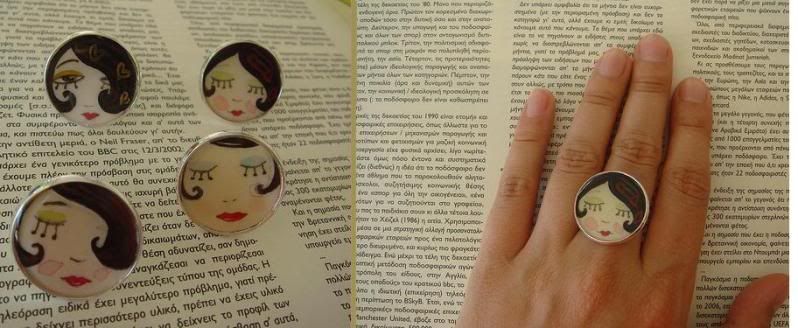 Enjoy the interview Paulina Dimitrokalli gave to me some days ago! I'm seriously in love with her rings
!

1. From your blog,i saw that your main job is that of a teacher. In what way is teaching and jewellery making combined?

I am teaching physics and till now i was working at a private elementary school. I was trying to transform learning into something that could be more experienced by combining science with theatrical game, puppets and c0nstructions. An Einstein puppet that talks about the heat can make a child understand the lesson easier. Even before the school thought, i was doing puppet seminars to children and that is something i'm still doing.



2. Do you draw inspiration by the children?



Children are always inspiring. For playing, thoughts, even life itself! That may be the reason why the things i'm creating often have a..childish mood. I also want to mention that i don't only create jewellery. I make puppets, dolls, bags and things for the house,too. This year i wanted to create jewellery after my collaboration with Chrisa.



3. What materials do you like to use and how did the collaboration with Chrisa Spyridonos start?



The materials i like to use are so many! ribbons, buttons, beads, liquid glass and plastic lamination (πλαστικοποίηση). What relaxes me more when i'm creating something though, is a high quality cotton fabric!

Chrisa works as a web designer and has studied graffic arts and children illustration at Orneraki school. We desided that our common style can create something special. At first it was just an experiment but later it became more specific. Chrisa designed the images and i used them in the making of the jewels.



4. You mentioned to me that we can find your rings and other staff at Manifactura, but also in some islands! Which ones?



Both me and Chrisa are also working in other jobs so right now we are not as productive as we want to be. You can find our jewellery at Manifactura (Eksarxia), in the island of Samos and from September at Pon-Pon shop (Halandri). Also at our etsy shop.



5. Abroad etsy shops are quite popular for all creators that want to sell their things. Do you thing that Greeks use as much online shopping?



etsy.com is really interesting. I can't say that we sell our things to our greek costumers in thay way though. We are not familiar to online shopping and PayPal in particular.


i want to specially thank Paulina for finding the time to answer my questions!