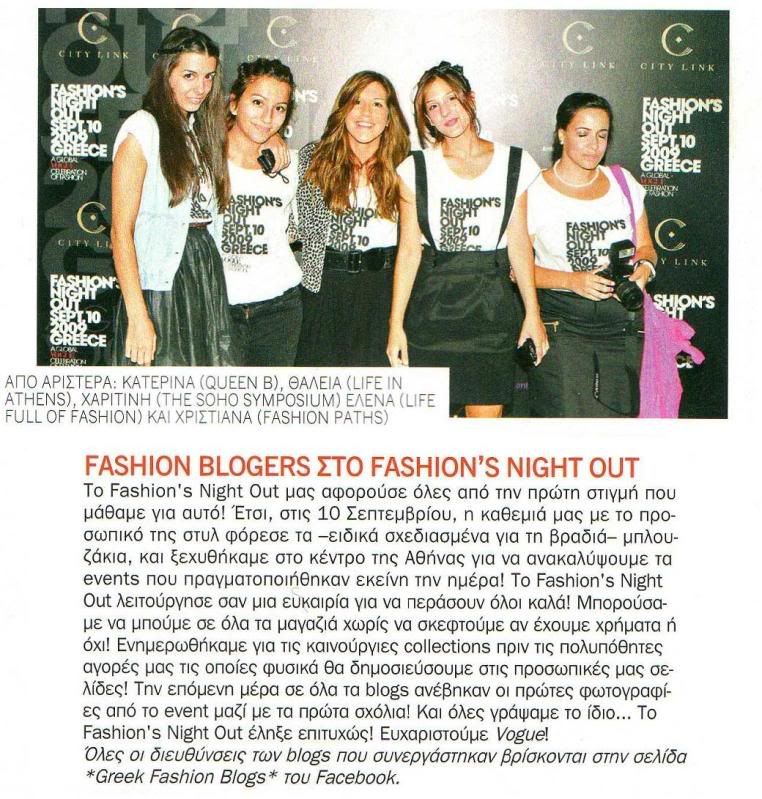 So, here we are! Fashion bloggers brand contributors of Vogue's October issue!

For the none-Greek speakers, here is the translation of our part:

Fashion's Night Out was something that we wanted to do from the first time we heard about it! So, at the 10th of September, each blogger wore in her personal way the especially designed t-shirts and all together we rushed downtown to discover all the events that took place!
Fashion's Night Out was a chance to have fun! We could enter all shops without worrying if we had money or not. We got informed of all the latest collections, the ones that of course we'll later on make posts about, at our blog pages!
Next day, the first photos of the event were uploaded, together with the first comments. And all of us wrote the same thing... Fashion's Night Out ended successfully! Thank you Vogue!



You can find all participating blog pages at Facebook *Greek Fashion Blogs* fan page



Too bad, at the picture you get to see, we don't look as celebrity-wise as we wanted to look! I guess none of us was ready to get photographed by all these photographers that shouted "Here! oohhh Fashion Bloggers, look here too!!!"
OK, so i'm kidding! There was no such paparazzi drama, the only "drama" was that in our first-ever-appearance at vogue pages, some of us didn't manage to get the "open-eye" look! But, no worries C. ! Now, you have one more reason to claim your own Vogue photoshoot! For sure!