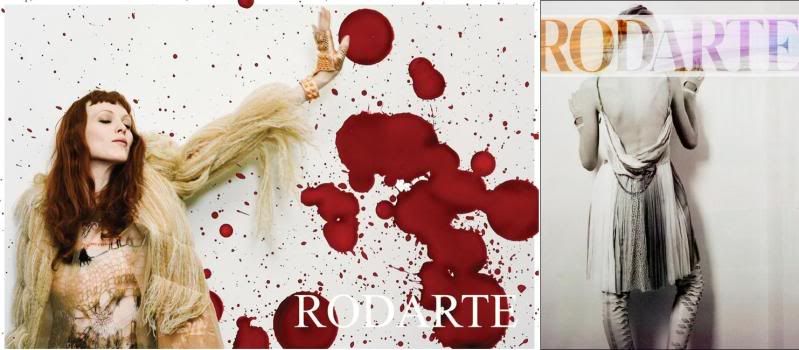 So the big mystery is solved. Everyone went applauding for the first ever Rodarte Spring 09 advertisement coming out and some even said that Rodarte is actually starting to take a more commercial path (picture in the right) possibly following Gareth Pugh who is said to be working on making his pieces more wearable recently and by presenting his latest collection on video instead of an actual show.

The times are difficult in the fashion world for sure but that doesn't have to mean that an advertisement is the beginning of the end for either Rodarte or anyone else who chooses to present their work in the wider public in the form of an advertisement or a video.

And while everyone became sceptical for the new Rodarte ad, it was revealed from Anthem

magazine that the sping 09 ad is actually the second advertisement Rodarte presents! The first ever Rodarte advertisement with Karen Elson was featured in the magazine's Winter issue.

In the words of Anthem.."these dire economic times have helped smaller "baby" brands enter into the advertising world in ways they would've never dreamed of a few years back. Getting your company's logo slapped on a page of a publication is a privilege afforded to very few. That being said, we couldn't be happier to see the Rodarte gals in Anthem... and we can't wait to see them in the forthcoming Spring issue. "
sources: anthemmagazine.com, fashionologie, fashionista