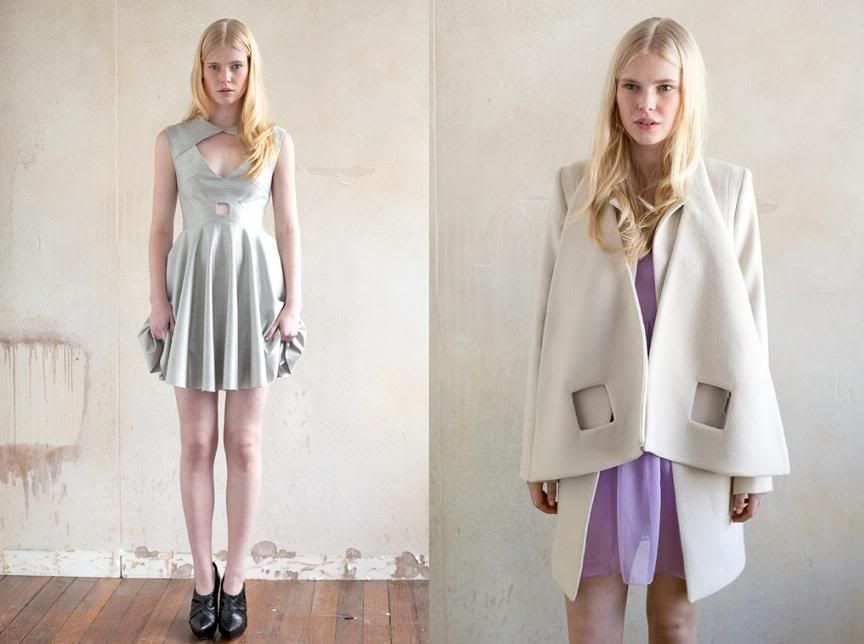 These days I'm mostly trying to catch up with all the blogs that I didn't have the time to read during the holidays. Despite the fact that my Google reader still has +1000 unread posts, I think that it will take me more than a month to have them all cleared out (!)...mainly because every time I read something, I pop up to another blog and that takes me to another blog...and oooh yes you know how this blog thing works!
So yesterday out of nowhere I discover the blog of artist Caitlin Shearer who is a rather inspirational illustrator and then as I endlessly strolled down I saw..THIS!

Caitlin has collaborated with Australian Fashion Designer Karla Spetic for the A/W 2010 collection for three pieces that are based on Caitlin's designs -I personally find them all amazing! As you can guess I had to take a look at the whole collection, too! The color palette is all about sweetness but the bright orange and black shades keep the interest alive! Another detail that I loved is that if you take a closer look at the first set of photos you actually see the same two-toned cardigan worn in two different ways ( reminder to give it a try when the weather actually allows me to wear a cardigan).

And I had to leave last, the grey dress as I absolutely fell in love with it!...Australian Fashion scene is more and more of my taste lately!