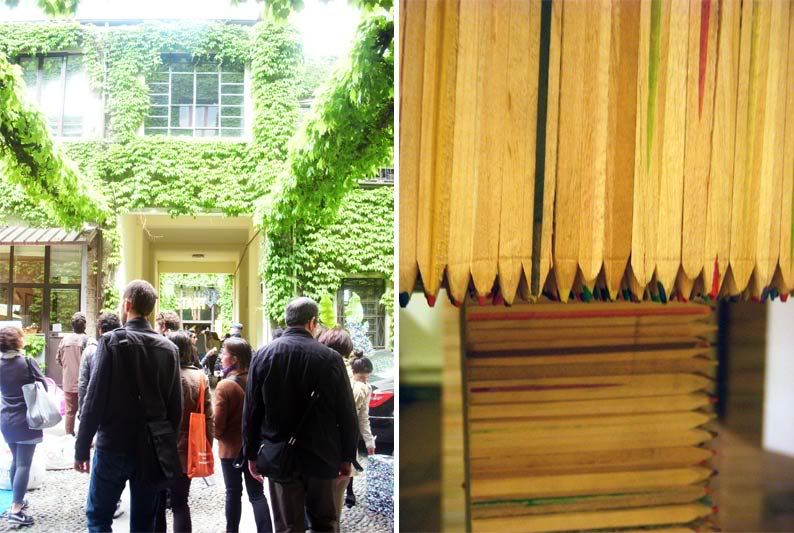 On Friday for just eight hours I found myself in Milano after three years of not living there anymore! The

"Salone del Mobile"

is of course one of the most important events of the city and of whole Italy and as fashion is strongly related to design trends, we had to be there and observe what will rule the design world next year!
As the time was limited we only went to via Tortona where more than 40 locations were open with design exhibitions. The first exhibition featured the very impressive project of Res Sapiens, where 13 lamps were using the traffic of the internet and by the power of the tweets, the lamps moved and lighted. In order to really understand the project just follow this link and see with your eyes what Res Sapiens was all about.
Tweelink from Holland created a very impressive table made out of 1000 color pencils- Maybe IKEA could be the next to present a table like this. The "Whoever does not understand the silence cannot hear it speak" comes from the Hillsideout project by Andrea Zambelli and Nat Wilms, which came to life in 2009 because of the common realization and the following discomfort concerning the degradation of abandoned sites in the Italian Apennines. They took old wooden furniture and re-created them into contemporary design objects. The above phrase was behind a plexiglass plate and the wardrobe in which it was inside was made of an old entrance door.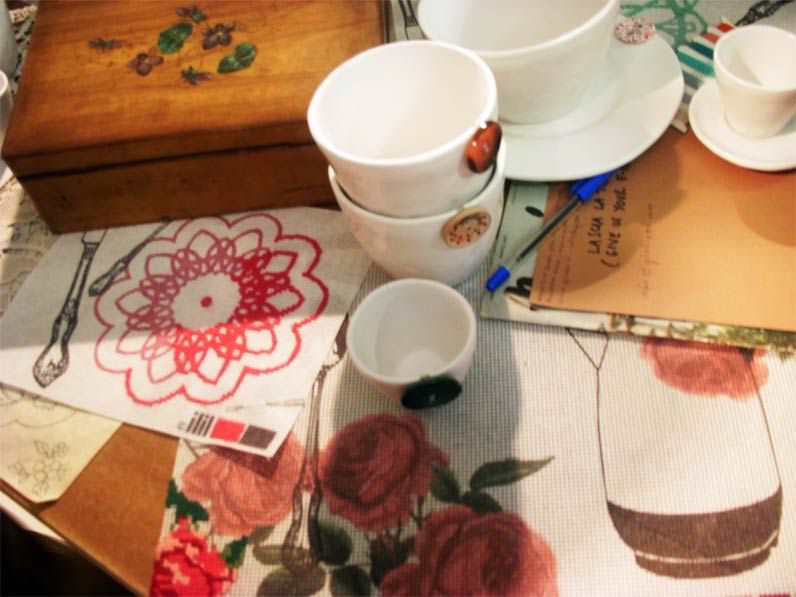 ilil studio Alessandro Israelachvili and Desiree Restuccia) was definitely of my taste -yes buttons managed to catch my interest! Their moto is "dress the table" (vestire la tavola) and they actually mean it! As they mention in their site:

"The table is a space for sharing, for relationship. Ilil imagines this relationship in an ironic way, creating a collection that plays with elements of fashion: sizes, basic items, accessories, styling."

Their ceramic collection of cups and dishes are accessorized by buttons and fabrics. This way each cup can be "dressed up" differently according to mood and occasion!
For the end, I kept the scenographic light installation of Menogranoblu company. The collection "Hydra" is a collection of suspended hand-blown glass lamps. The light is reflected and diffused by the blown glass pendants which are suspended by a coloured tubular mesh of copper threads.
As this blog is not a merely design blog I just wanted to share some photos of the things I saw. For more details and real design reviews follow Yatzer that was in town as well!

Tomorrow, my fashion findings and some streetstyle shots!