Bianca aka Battered Couture was a liiiitle bit faster than me in posting the

"I Owe You"

video when it was apparently sent to both of us! As my philosophy generally is not post something that has already been mentioned elsewhere (and Bianca's posts are more than inspiring every time) it took me some long hours just watching again and again the video, being impressed by this project and having numerous thoughts in my mind without thinking of possibly re-posting it. But thoughts like:

"..machines create clothes so that we can all dress th
e same way...But, don't we all want to be unique? Express our differences? Respect the environment?"

...deserve to not only be re-posted but actually be further discussed. As the matter of where creativity starts and ends in the fast fashion world that we are living in,
the IOU project actually proposes something different. "Instead of mass producing standard clothing, they have found great European craftsmen to assemble each piece that has been weft by Indian weavers , one at a time. Then the consumer by tracking each individual piece, knows the whole story behind the garment that he is wearing"!

How many of us can actually say that they
know the story behind what they are wearing right now? Or, how many of us read the tags "Made in Bangladesh or China" and actually know or think of what this means?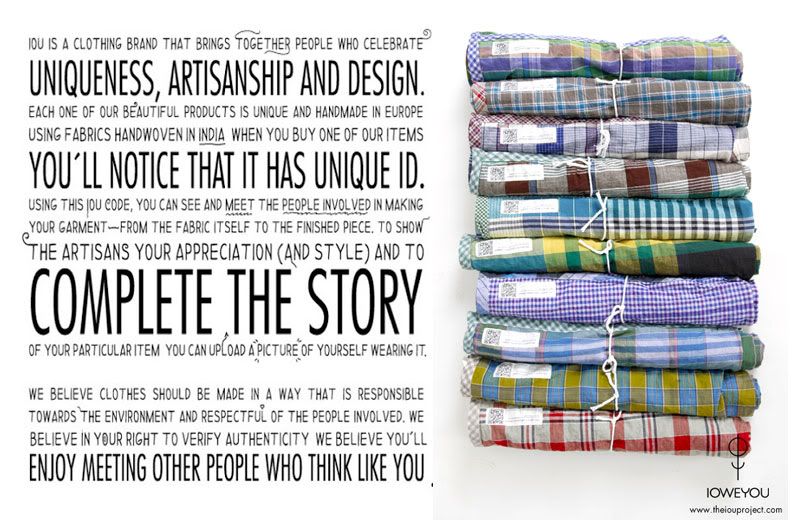 The

I Owe You

project is launching in just

one week

from today, and I thought it would be interesting to ask a few more questions the team behind IOU.
Enjoy the small interview and don't forget to check the official site here.
Q - Can people track the craftsmen behind each piece of clothing?



Yes that was a very important part of the project. We have documented , interviewed and filmed each and every one of the artisans involved in our project ( right now we work with 223 weavers ) Each artisan has his own code and we track each piece of cloth thr
ough the entire process to be able to tell its complete story.
Of course since each piece is unique it has its own QR code that takes you to the entire story of the product, the video/pictures of the artisan who made the fabric in India and the artisans who made the garment in Europe.
And if you feel like it you can take your picture and add it to the story of that piece. All of this can be looked at and shared from our website.
Q - Do these craftsmen get paid a higher wage?



Yes the IOU Weavers are getting paid more for their work and not only that we are working with local NGO´s to start an entrepreneurial fund in their villages headed by the artisans and pay extra into it from the sale of each of their
patterns so that they themselves can turn into investors in their own villages . These artisan communities live in the harshest of conditions but we found them to be extremely proud of their craft and very keen to preserve their independence and attract their children back to it. Our dream is to work with more and more families.



Q - Are they all from India?



The weavers of the Madras check at this stage of the project are from the tamil nadu region of India. We are also producing a line of real plant Indigo dyed hand woven selvedge denim made in Japan. We then bring the fabric into Europe and work with European craftsman in Italy, Portugal, Romania and Spain to turn these into beauti
fully hand crafted pieces of clothing. The european artisan has suffered tremendously in these last decades as well and our aim with this project was to bring back work and pride and a competitive product to them. The great part of the project has been the collaboration and understanding between everyone to make this work as they all understood that this was truly for everyones benefit.

Q - How can such a collection be advertised when each garment is different from the others?



We are crazy enough to take upon ourselves the herculean task of photographing every single individual piece since each one is UNIQUE.
We have had to turn the entire production system of our european partners and our own company on its head as every lungi( Piece of woven fabric ) woven by the weavers is a different pattern from the other.
You will see that clearly on our website
.
If i were to sum up the IOU Project i would say that it has been a study in the creation of a Prosperity chain; an experiment to rethink how goods are produced and sold in a way that benefits everyone.
We Believe:
In empowering the Artisan
In celebrating Uniqueness
In our right to Transparency
We believe in the power of Technology to make these happen.
...So, any thoughts?