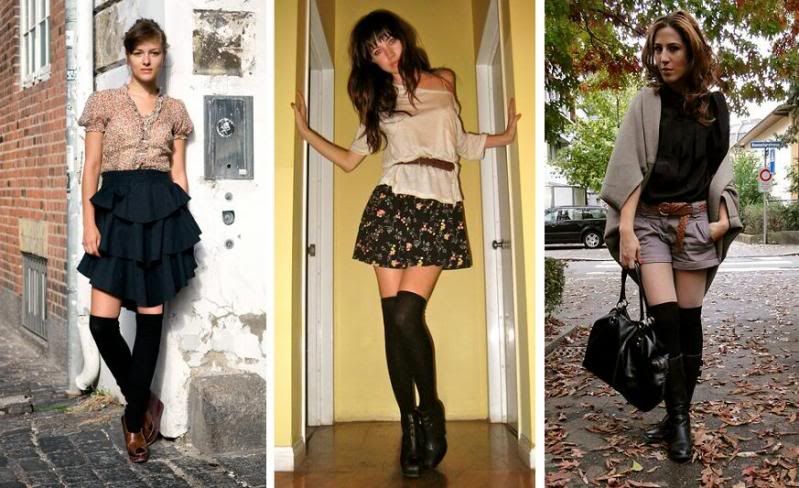 Some days ago i received an email from a very supportive SoHo Symposium reader, asking me in a very sweet way, how to wear over the knee socks! She also wanted to know what colors are the best and with which clothes they can be worn!
As you can guess, i couldn't drop the challenge, and i responded to her immediately that i would do my best to help her!
So here i am writing this post...about SOCKS!

In the pictures above there are shown all the ways to wear knee socks successfully. That means that for a look that doesn't have the intention to be extravagant the

black

color is the most secure option! Also, for the ones who want to devote to this new trend, the length of the cloth above has to be selected carefully. As you cover a very long area of leg, it doesn't harm to wear

mini skirts

or

shorts

, but beware that in the market you'll find all sorts...of shorts!! So for me, the best skirt is the one that is called tulip, and as for shorts..the ones that are not tight-tight (my english fluency always amazes me) ! As for shoes, i think that you can wear anything you want, but i have to say that i prefer wearing them, with

mid-high boots

and also with

shoe boots

so as to create a more romantic style! Hmm.. let me think for more infos..oh yes! You also have to pay attention to the upper part of your body...Because over the knee socks -for the ones that are not skinny- mean that they can create a sexy-plexy look, pleazzz don't show any more skin above! Be as

conservative

as your parents would want you to be and let the socks do their miracles!
...and for the ones that forget easily, this is the way that i styled my knee socks in an older post (
link link
)! Hope that i was helpful enough!

pictures used in order of appearance :

hansel for basel lookbook
copenhagenstreetstyle.dk
agogofashion.blogspot.com
styleseekingzurich.blogspot.com
wewearthings.blogspot.com
recycleddarling.blogspot.com
topshop campaign
www.popsugar.com