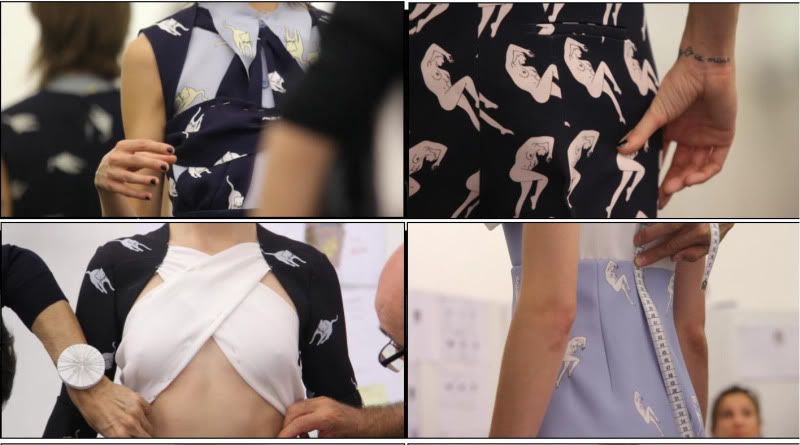 It always excites me to find the inspiration of certain collections! That is maybe because when at Saint Martins one of the first things that we learned was that the theme of a collection is the most important thing! It's not the fabrics, it's not the technique used but a theme can actually upgrate a whole collection!

So when I found that the theme of MiuMiu's Spring collection was the artist John Wesley I immediately googled him! I have read a lot of comments and I have seen two or three pics that "accused" Miuccia for luck of imagination when brands like H&M or Monki have already used certain motives such as the swallows before but it's like the joke with the egg and the hen! What comes first, we'll never know!!!
John Wesley produced his work in the 60's and although classified as a Pop artist, Wesley himself considered his work to be aligned with Surrealism!
At Fredericks Freiser Gallery site, I found that Mr. Wesley's longtime palette consisted of nursery pinks, blues and crisp additions of black! (Sounds like the MiuMiu color palette was just found!)
Another interesting find is that Fondazione Prada during 2009 has sponsored "an anthological excibition curated by Germano Gelant, of the American Artist -tadaaa- John Wesley in parallel with the Venice Biennale!" At the Fondazione Prada's site it is also noted that the excibition was the larger and more complete exhibition ever realized on Wesley's activity!!

Sounds like Miuccia was really passionate about Senior Wesley don't you think?!!?!?

First and last set of pics is taken by miumiu site and are screenshots of the official video!
Second pic is by fashion spot and googled images on John Wesley's paintings!